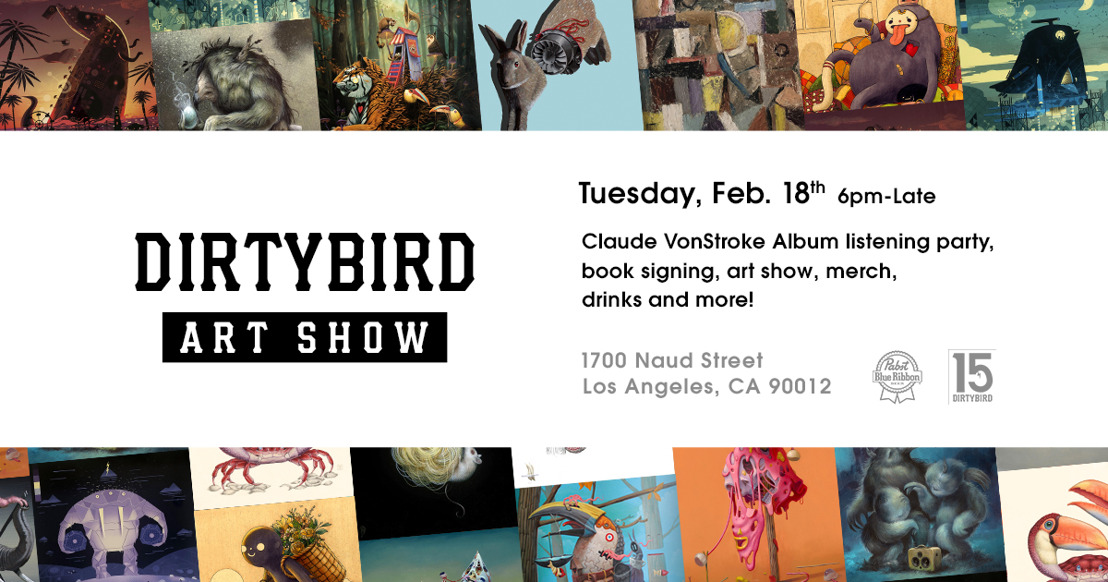 INVITE: Dirtybird's Inaugural Art Show + Album Listening Party @ 1700 Naud Street, Tuesday Feb 18th (6pm - late)
Be among the first to hear Claude VonStroke's upcoming album 'Freaks & Beaks'
Tuesday, February 11, 2020 — We'd like to invite you to attend our inaugural Dirtybird Art Show and Claude VonStroke album listening party.

A complimentary open bar (Beer and Selzer) and hors d'oeuvres will be served alongside a new experience to see the visual creative world of Dirtybird celebrating the 15 years of the record label. It's been a long road to get where we are today, and we hope to conjure up all of the good memories formed along the way. Claude Vonstroke will be signing the Dirtybird 300-page book and book bundle and you'll also have a chance to purchase our unreleased spring clothing line.

Artists Birdcap (Michael Roy) and Robert Bowen will be in attendance as well as Juxtapoz magazine.
We'll be hosting a private showing from 5-6 pm before the show is open to the public as well if you'd like to attend.
Please RSVP in a response to this email if interested. Please include if you're requesitng a +1.
Hope you'll join us!